Transparent pipeline geohazard management
Pipelines face constant geohazard risks, from landslides and tectonic activity to excavation and construction. If these hazards lead to stresses beyond the pipeline's design, it increases the likelihood of leaks or explosions. To ensure early detection and swift response, operators conduct extensive risk assessments, geohazard studies, and field reports. However, the sheer mix and volume of data can make geohazard assessment and management challenging.
Klarian is tackling this for you. We've developed a Digipipe service to provide comprehensive visibility and prioritisation of your geohazard assessment and survey data. Enabled by DigipipeVision and DigipipeNexus, we can also process data from your sensing technologies, enabling you to identify and respond to potential geohazards proactively.
With Digipipe, you can strengthen your confidence in geohazard mitigation and management, ensuring the safety and reliability of your pipeline operations even in the harshest landscapes.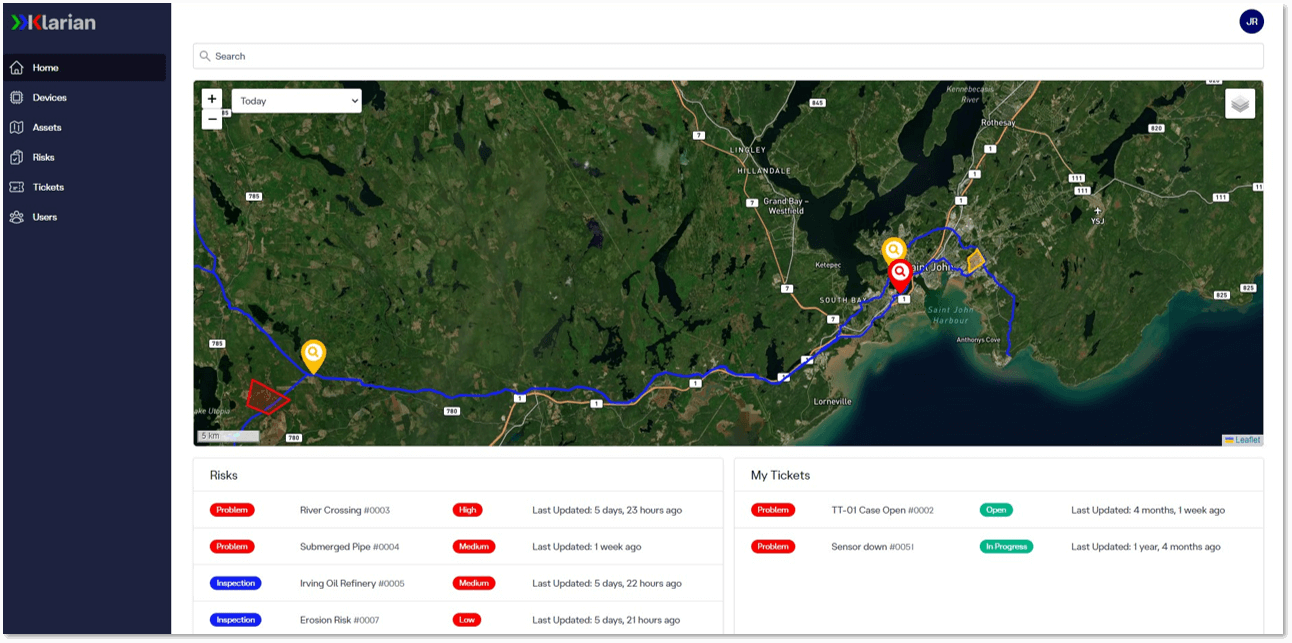 Digipipe offers a proactive pipeline geohazard assessment and management service to save you costs and prevent reputational and environmental damage.
Managing outputs from your mountains of risk assessments, geohazard studies, and field reports is challenging. No hazard is the same, so you need a robust and consistent geohazard identification and assessment process to manage near and long-term risks with confidence.
Digipipe has a geographic information system configuration. Our software platform,  DigipipeVision, offers a map view and time filter, displaying the locations of surveys, risk assessments, and relevant information like site photographs or live flood risk data.
With a clear visual of all hazards, our action tracker aids decision-making by providing granular prioritisation. You can focus on genuine priority risks without getting overwhelmed by excess data.
Digipipe's geohazard configuration includes an alert engine to track various geohazards, including landslides, floods, and other types of ground movement.  You can easily customise your alerts via DigipipeVision's user-friendly interface to match your specific needs. On top of this, you can also access historical alert data for better decision-making.
You'll receive immediate alerts via email, SMS, and internal notifications on our platform ensuring you react swiftly to minimise potential hazards.