Webinar | Boosting pipeline throughput with Klarian's digital solution
One area that we believe deserves greater attention is the optimisation of pipeline pumps and compressors.
By leveraging our software analytics platform and data analytics capabilities, Klarian strives to transform pipeline efficiency by providing data-driven asset optimisation to enhance operational efficiency, save costs and reduce energy usage.
Recently, we hosted an enlightening webinar on the topic. The 26-minute seminar revealed how we helped BPA harness the power of data to drive asset optimisation. If you're interested in learning how we can do the same for you, give it a watch: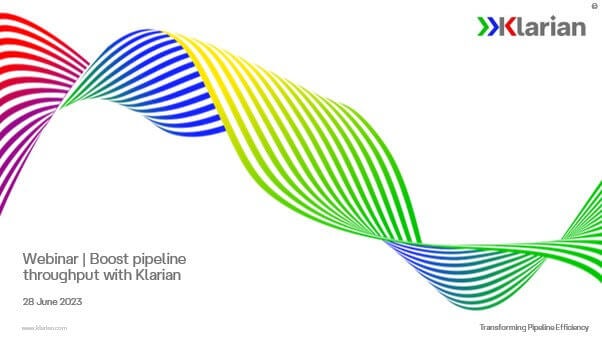 Webinar highlights
Section 1: Introductions
Duration: 10 minutes (00:00-10:14)
We kick off our webinar by introducing our speakers, our technology, and our work with BPA.
Section 2: 'Virtual instrumentation' - filtering and correcting pump power data
Duration: 2 minutes (10:31-12:51)
After introductions, we dive into the data analysis. To get high-quality analysis output, you need high-quality data. Watch this section to learn how we turn less granular data into higher quality, higher resolution data, starting with pump power.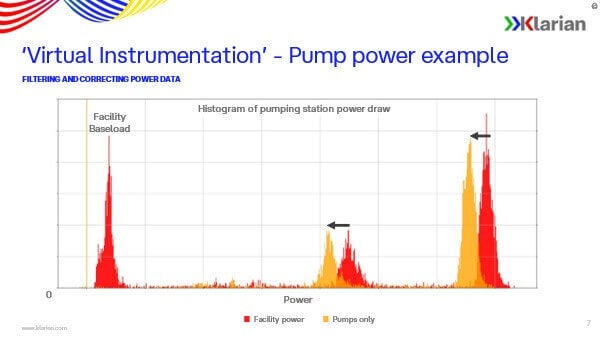 Section 3: Evaluating routes
Duration: 1 minute (12:52-13:19)
One big way to improve throughput is to select optimal routes through the network when delivering product. Here, we discuss how our first step is mapping the network and assigning potential routes products can take for analysis on a route-by-route basis.
Section 4: Mass flow and system utilisation
Duration: 1 minute (13:22-14:20)
When analysing pump efficiency, you need a clear view of your pumping operations. At this point in the webinar, we briefly explain how we map pump usage, duration, and performance.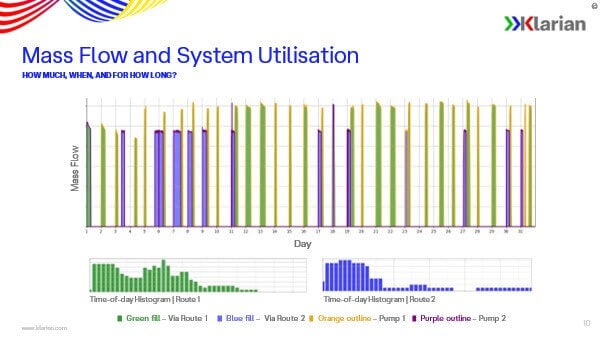 Section 5: Pump efficiency, improving throughput, and saving energy costs
Duration: 4 minutes (14:21-17:47)
A pivotal section, where we delve into the heart of pump efficiency and asset optimisation. Our data scientist explains how we evaluate hydraulic efficiency on a pump-by-pump and route-by-route basis, mapping actual efficiency against optimal efficiency to benchmark your current performance. We then walk you through how we investigate what might cause any drops in efficiency, such as valve control. We end this section by discussing the potential energy savings you can gain by adjusting operations in line with our recommendations.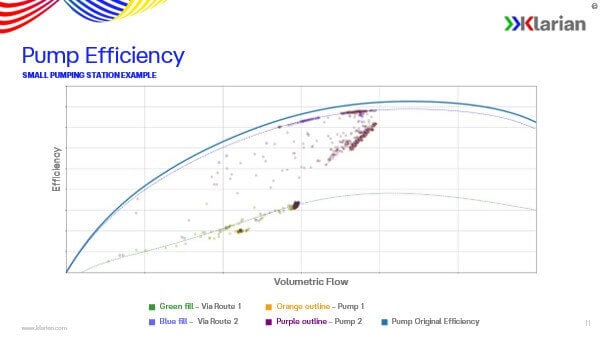 Section 6: About Digipipe
Duration: 2 minutes (17:51-20:03)
By this point in the webinar, we've shown you what we can do and now we tell you how we do it. We introduce Digipipe, our intelligent pipelines service for greener, leaner, and more profitable operations. You'll also hear some testimony from BPA.
Section 7: Q&A
Duration: 6 minutes (20:05-25:39)
We concluded the webinar by answering your questions. We got some good ones, such as how we figure out if a pump is serving a specific route and what makes us different from other software providers (hint: we're not just software experts, we've got hardware expertise too).
If the webinar piqued your interest, get in touch to learn more about how we can optimise your operational efficiency.